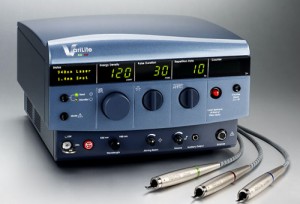 The Iridex VariLite laser machine has long been one of the leading cosmetic laser systems and aesthetic laser systems on the market for the treatment of removing bothersome veins in the legs and face as well as vascular pigment and vascular lesions. Aestheticians, dermatologists and medical practitioners regularly rely on the Iridex Varilite laser system for these vein removal treatments in addition to acne treatments. One of the many features that sets the Iridex VariLite laser machine apart from laser machines that complete similar treatments is the fact that the Iridex VariLite laser system offers two different wavelengths for treatment, which are the 532 nm wavelength and the 940 nm wavelength. Because of the 940 nm wavelength, the Iridex VariLite laser system can treat a wider variety of skin colors and vessels. The 940 nm wavelength is better at treating darker skin tones as well as large blue vessels than the more standard 532 nm wavelength.
Another reason the Iridex VariLite laser machine stands apart from the pack is because of the number of lightweight and ergonomic laser handpieces that work in conjunction with the Iridex VariLite laser equipment. When using an Iridex VariLite laser machine, users have the option of choosing laser heads at size 0.7 mm, 1.0 mm, 1.4 mm, 2.0 mm and 2.8 mm. Whether you have used Iridex VariLite laser equipment you are looking to sell or some pre-owned Iridex VariLite laser heads or laser handpieces you no longer need, SellLasers.com has got you covered. We purchase used laser handpieces and used laser equipment at top dollar and get you the money from the sale quickly.
Iridex VariLite Laser Features:
Dual wavelength: 532 nm and 940 nm
Works with lightweight ergonomic handpieces
Laser type: Diode pumped, solid state
940 nm wavelength option allows for better treatment of darker skin tones and larger blue vessels
MicroSpot precise energy application
Electrical: 110V
Iridex VariLite Laser Machine Applications:
Vascular lesion removal
Pigmented lesion removal
Cutaneous lesion removal
Acne treatment
Skin rejuvenation
Iridex VariLite Laser Handpieces:
ScanLite xP scanner
0.7 mm laser head
1.0 mm laser head
1.4 mm laser head
2.0 mm laser head
2.8 mm laser head
When you no longer need your Iridex VariLite laser machine at your health practice, medical spa or dermatology office, you can rest assured that another doctor, dermatologist or aesthetician will benefit from its use for their aesthetic, cosmetic or medical needs. That is why SellLasers.com is always in the market to buy used Iridex VariLite laser equipment. As an industry leader in the laser buying market, SellLasers.com has a proven reputation of customer satisfaction by paying top dollar for used medical laser equipment, cosmetic laser equipment and aesthetic laser equipment. When you opt to sell your used Iridex VariLite laser system to SellLasers.com, one of our trusted representatives will work with you one on one to determine the best SellLasers.com laser buying route for you. SellLasers.com offers three different options for purchasing your used Iridex VariLite laser machine, including an outright purchase, a consignment sale or a rental/re-lease agreement. Contact us today to find out which option will net you the most bang for your buck on the sale of your pre-owned Iridex VariLite laser machine.