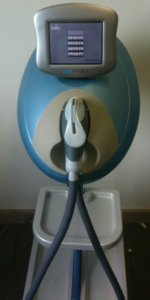 The Aesthera Isolaz laser system has become a fixture in dermatology offices, health practices and medical spas around the world because of both its unparalleled effectiveness in treating different kinds of acne and its versatility for other cosmetic and aesthetic treatments like vascular lesion removal and hair removal. Aestheticians, dermatologists and medical practitioners alike regularly rely on the Aesthera Isolaz laser machine for its FDA approved treatment of both comedonal and pustular acne. Aside from its primary usage in acne treatments, the Aesthera Isolaz laser equipment also works for a number of aesthetic and cosmetic purposes, including hair removal, skin rejuvenation, vascular lesion removal and pigmented lesion removal. The Aesthera Isolaz laser brand is in fact the only laser machine brand that employs the Aesthera trademark photopneumatic technology, through which broadband light and topical vacuums combine to create a two-pronged approach to deep pore purification.
One of the biggest reasons so many dermatologists and aestheticians regularly employ the Aesthera Isolaz laser machine in their practices and for a number of treatments is because its trademark photopneumatic technology allows light to penetrate the skin without any pain or down time for patients. Because of this, aesthetic, cosmetic and medical treatments employing the Aesthera Isolaz laser machine can be done quickly and painlessly for patients. With that kind of a reputation, Aesthera Isolaz laser equipment will always be in demand, which is why SellLasers.com will pay you top dollar when we buy your pre-owned Aesthera Isolaz laser equipment. Used Aesthera Isolaz laser handpieces and pre-owned Aesthera Isolaz laser heads will also be purchased at top dollar by SellLasers.com, so if you have used laser handpieces or laser heads that work with your used Aesthera Isolaz laser machine laying around your health practice or medical spa, we will buy those from you as well.
Aesthera Isolaz Laser Features:
Swivel touch screen display
iMP and iTM technology
Safety mechanism that prevents laser operation unless there is full skin contact
Operating radius of 70 inches
Weight: 45 pounds
Dimensions: 13 inches x 16.5 inches x 15 inches
Electrical: 115V/230V with single phase grounded outlet
Aesthera Isolaz Laser Machine Applications:
Acne treatment
Skin rejuvenation
Hair removal
Light based skin rejuvenation
Pigmented lesion removal
Vascular lesion removal
If you have decided that you no longer have any use for the Aesthera Isolaz laser machine or Aesthera Isolaz laser equipment in your health practice or medical spa, contact SellLasers.com today, and we will buy your pre-owned Aesthera Isolaz laser machine for a great price and get you your money quickly. One of our trusted SellLasers.com representatives will work with you one on one to help you decide which of our three laser buying options will get you the most money the fastest. All of our SellLasers.com customers have the options of selling their used laser machines through an outright purchase by SellLasers.com, a consignment sale coordinated by SellLasers.com or by adding used laser equipment to our extensive fleet of rental/re-lease laser equipment. Give us a call today to figure out which of these three options will work best for the sale of your used Aesthera Isolaz laser machine.