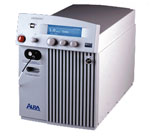 The Laserscope Aura laser machine has been a popular choice among dermatologists, aestheticians, medical spas and other health professionals for many years because of its trademark combination of versatility and portability. Checking in at less than 75 pounds, the Laserscope Aura laser system is a laser machine you can easily move around your health practice or medical spa to complete more cosmetic laser treatments and medical laser treatments. The fact that the Laserscope Aura laser equipment also relies on a 110 volt electric outlet gives it more options than other laser equipment that require specific voltage not found in standard outlets. The affordable and highly portable Laserscope Aura laser equipment can also handle a broad spectrum of cosmetic laser treatments, medical laser treatments and aesthetic laser treatments quickly and with relatively minimal pain for patients. Some of the most popular laser treatments that can be completed using a Laserscope Aura laser machine include photofacials, wrinkle reduction, acne treatments, vascular lesion removal, pigmented lesion removal and leg vein removal.
In conjunction with its KTP laser source, the Laserscope Aura laser machine also benefits from being built to incorporate the patented Laserscope Star Pulse technology, which allows for options in pulse duration ranging from continuous wave to a spectrum of any point between 1 ms to 30 ms. If you have decided that it is time to get rid of your Laserscope Aura laser equipment, SellLasers.com is here to help. Thanks to SellLasers.com, the industry leader in laser buying, you can sell your used Laserscope Aura laser machine and any corresponding used Laserscope Aura laser heads for top dollar and get your money quickly. To that end, SellLasers.com offers you three different options for the sale of your used Laserscope Aura laser machine. One of our trusted SellLasers.com representatives will help you choose the best option for the needs of your medical spa or health practice. Just contact us today to find out more.
Laserscope Aura Laser Features:
Laser type: KTP
Wavelength: 532 nm
Spot size: 1 mm or 2 mm
Pulse duration: Options for continuous wave or 1 ms to 30 ms in Star Pulse mode
Weight: 73 pounds
Dimensions: 23 inches x 12 inches x 17 inches
Electrical: 110 v
Laserscope Aura Laser Machine Applications:
Photofacial
Skin rejuvenation
Vascular lesion removal
Leg vein removal
Pigmented lesion removal
Acne treatments
Laserscope Aura Laser Heads and Laser Handpieces:
Laserscope Versastat i laser head
Laserscope chiller laser head
When you no longer need your used cosmetic laser equipment, used medical laser equipment or used aesthetic laser equipment, SellLasers.com will purchase it from you at top dollar, and we also guarantee that you get your money at a quick turnaround speed. So if you have a used Laserscope Aura laser system or any used Laserscope Aura laser heads lying around your health practice or medical spa that you no longer need, contact SellLasers.com today, and one of our representatives will work with you one on one to determine which of our three laser buying options of outright purchase, consignment sale or a rental/re-lease agreement will net you the most money from the sale of your used Laserscope Aura laser equipment.