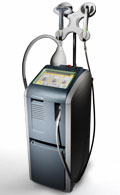 The Cutera Xeo laser system rightfully has earned a reputation as being one of the most versatile aesthetic lasers and cosmetic lasers on the market. In fact, one Cutera Xeo laser machine actually serves the purposes of a number of different laser machines because of all the treatment options that become available through the use of different laser handpieces. Some of the Cutera laser heads that work directly with the Cutera Xeo laser machine to complete those many different treatments are the Pearl laser head, the Pearl Fractional laser head, the Lime Light laser head, the Pro Wave 770 laser head, the YAG Cool Glide laser head and the Titan XL laser head. In conjunction with these different Cutera laser heads, the Cuter Xeo laser equipment can handle skin tightening, skin rejuvenation, age spot removal, vascular lesion removal, leg vein removal, facial vein removal and much more.
Aestheticians, dermatologists and health professionals regularly employ the Cutera Xeo laser machine in their medical practices and medical spas to complete a number of aesthetic and cosmetic treatments. Because the Cutera Xeo laser system can handle so many different treatments, you can definitely count on getting top dollar from your used Cutera Xeo laser machine by selling it to SellLasers.com, the industry leader in laser buying. SellLasers.com offers top dollar not only for used Cutera Xeo laser machines but also for all the coordinating Cutera laser heads that work with the Cutera Xeo laser system. With patient safety and comfort to its credit, the Cutera Xeo laser machine will bring you good money at a quick turnaround speed when you choose to sell it to SellLasers.com, where we offer three options to make sure you get the best price when we buy your used Cutera Xeo laser machine.
Cutera Xeo Laser Features:
Internal self contained cooling system
Real time calibration
Continuous epidermal temperature regulation
Operating radius of 70 inches
Weight: 135 pounds
Dimensions: 12 inches x 19 inches x 35 inches
Electrical: 115V/20A or 230V/20A
Cutera Xeo Laser Machine Applications:
Skin tightening
Skin rejuvenation
Hair removal
Leg vein removal
Vascular lesion removal
Facial vein removal
Age spot removal
Cutera Xeo Laser Heads and Laser Handpieces:
Pearl
Pearl Fractional
Titan V
Titan XL
LimeLight
Pro Wave 770
Acu Tip 500
YAG Cool Glide
Laser Genesis
Because of its versatility and the number of handpieces it operates with, used Cutera Xeo laser equipment will always be in high demand, and SellLasers.com will always be in the market to buy the Cutera Xeo laser machine from dermatologists, aestheticians and health practitioners. If you are looking to make a sale on your used Cutera Xeo laser system, contact SellLasers.com, and one of our representatives will talk you through the three SellLasers.com laser buying options to figure out how you can get the most money out of the sale of your pre-owned Cutera Xeo laser machine. SellLasers.com offers to buy your used laser equipment through an outright purchase, coordinating a consignment sale and adding your used laser equipment to our extensive rental/re-lease fleet of used laser equipment. Just give us a call today, and find out what we can do to get you the most money the fastest on the sale of your used Cutera Xeo laser machine.