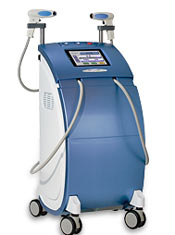 The Alma Accent laser system stands apart from other cosmetic laser equipment because it operates using radio frequencies to complete its cosmetic treatments and medical treatments, which include laser lipo, body contouring, skin resurfacing, wrinkle reduction and skin tightening. Because it uses radio frequencies to operate, the Alma Accent laser machine has a bonus of being completely non-invasive, and thus it is also pain free for patients. The small size of the Alma Accent laser equipment means that it can easily be transported from office to office within your aesthetician practice, dermatology practice, medical spa or other health setting. This economical laser also works in conjunction with the two different Alma Accent laser heads, which are the Alma Accent unipolar laser head and the Alma Accent bipolar laser head, to increase its effectiveness across a broader spectrum of both the face and the body.
With an Alma Accent laser machine, dermatologists, aestheticians and other medical professionals can utilize radio frequencies to treat patients quickly, efficiently and without pain, resulting in no down time between treatments since anesthesia is not required to complete the treatments. Like many Alma laser machines, the Alma Accent laser equipment can also be expanded thanks to its platform technology, which will help ensure that the Alma Accent laser system remains a vital part of your health practice or medical spa for many years to come. However, if you no longer need your used Alma Accent laser equipment, you can get top dollar by opting to sell it to the industry leader in laser buying, SellLasers.com. At SellLasers.com, we work to ensure that you get the best price from the sale of your used Alma Accent laser machine and any corresponding used Alma Accent laser heads, and we also make sure that you get your money quickly. With a lightning quick turnaround speed on laser purchases, SellLasers.com simply cannot be beat.
Alma Accent Laser Features:
Two different Alma Accent radio frequency laser heads, unipolar and bipolar, offer more treatment options
Treats the entire body
Provides virtually pain free treatments
Expandable platform technology
Weight: 110 pounds
Dimensions: 21 inches x 17 inches x 38 inches
Electrical: 100-120 VAC, 5 A, 50/60 Hz or 208-240 VAC, 2.5 A, 50 Hz
Alma Accent Laser Machine Applications:
Skin tightening using radio frequency
Body contouring
Laser lipo
Wrinkle reduction
Alma Accent Laser Head Models:
Alma Accent bipolar laser handpiece
Alma Accent unipolar laser handpiece
SellLasers.com will offer you the best price around on the sale of your used cosmetic laser machines, medical laser machines and aesthetic laser machines. As the industry leader in the field of laser buying, SellLasers.com buys used and pre-owned laser systems of all makes and models, including the used Alma Accent laser machine. To find out how you can make top dollar on the sale of your used Alma Accent laser equipment, contact us today, and one of our SellLasers.com representatives will walk you through our three different laser buying options of outright purchase, consignment sale or a rental/re-lease agreement to decide which option will get you the most money from the sale of your used Alma Accent laser equipment.